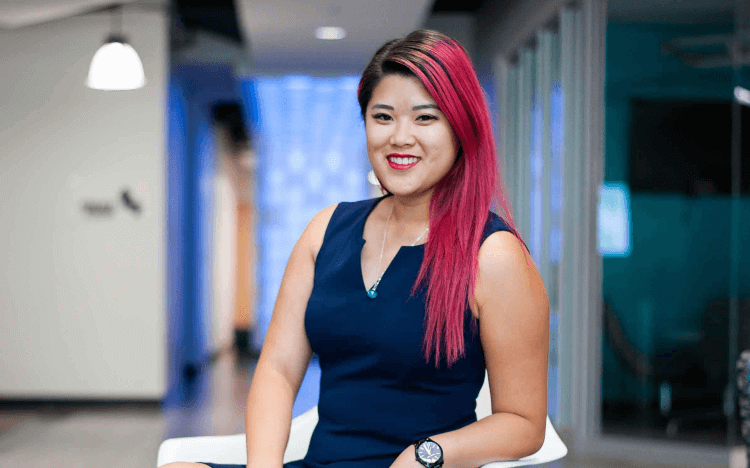 How an MBA in Entrepreneurship Helped Me Break into Venture Capital
Like all entrepreneurs, Anita Ly is a problem solver. It's a mindset that the biochemistry graduate has had since starting her career in the pharmaceutical industry, where she researched new, potentially life-saving therapeutic drugs.
It was her first taste for entrepreneurship, and the one that marked it. Fast forward six years, and Anita moved away from pharma to pursue a career in venture capital.
She works for Intulsa, a subsidiary of the investment company Atento Capital, which identifies the latest high-tech innovations.
Underpinning both stages of Anita's career is a passion for solving complex problems. It is an entrepreneurial spirit that she refined and developed during her time in the Michael F. Price College of Business (OU) MBA program at the University of Oklahoma.
---
Why an MBA with Entrepreneurship?
There is no set path for entrepreneurship, and Anita was not the type to design and sell products in her spare time. But she had always liked to make an impact.
"I loved working on drug discovery; although pharma evolves very slowly, there is a big impact when you contribute to a drug that saves lives, "she explains.
She discovered a faster way to do this after moving from California to Oklahoma to pursue a doctorate in biochemistry. She got involved in the OU's Catalyst program, which works with graduate students to turn their innovations into full-fledged startups, many of which start in the lab.
Working on the program, Anita (Photo) was introduced to the entrepreneurial world of accelerators, small business grants and angel investors. She was impressed with what she saw.
"I loved this research which is usually stuck in a lab and now has a path to government support and funding," she says.
Inspired, Anita created OK WISE (Oklahoma Women Impacting STEM and Entrepreneurship), a conference featuring local women entrepreneurs.
This means that she began to network with local founders and immersed herself in the rapidly evolving entrepreneurial sector. She even started to consider her own startup.
It was around this time that she identified an MBA with Entrepreneurship as the best way to develop and use her talents.
"I decided I could have a bigger impact by staying in entrepreneurship and working in economic development, rather than staying behind a lab bench for the next 15 years," she says.
---
Develop entrepreneurial skills with an MBA
After interviews in a few schools, the Price College of Business in the OU stood out for Anita. "There was a real personal connection that I felt was really important with an MBA," she says.
"The general manager was heavily involved in the process, while in other schools you can talk to a few teachers, but it's mostly just the administrative staff. "
The OU MBA focuses on both core business modules covering topics such as marketing, business strategy, operations management, and data analytics, and elective courses that allow students to choose from areas of specialization.
After joining the program, Anita enjoyed the core lessons, which she found accessible despite her non-traditional MBA background. She also took the opportunity to specialize in entrepreneurship.
---
---
The Entrepreneurship Track of the OU MBA blends theoretical education, covering case studies showing best and worst entrepreneurial practices, and hands-on business simulators that guide students through the entrepreneurial journey. Students learn how to build a team, study the market, start a business, and apply for funding.
"The experience invigorated me and gave me the go-ahead internally that this is something I was good at," says Anita. "This course was really important for my MBA career."
Anita also qualified for a prestigious OR Price College scholarship, which enabled her to do an internship at Casdin Capital, a hedge fund in New York City. Anita completed the internship virtually due to the coronavirus pandemic, but despite her inability to work in person, she found it to be an integral part of her journey.
"School encouraged me to work in a different field, which for the first time exposed me to the hedge fund, the venture capital side of things," she says. "It really piqued my interest. "
---
Channeling the entrepreneurial spirit
Anita's interest in the industry continued after graduation when she launched a new career in venture capital. She got her job at Intulsa in early 2021, where she works in the company's partner operations team.
By working with partner companies in industries like cybersecurity and manufacturing, Anita helps develop strategies for growth. This includes helping founders build their teams and expand their office space.
Working in venture capital helps Anita channel her entrepreneurial passion. She is also able to use her entrepreneurial skills to solve her clients' problems, taking on the role of intrapreneur.
"One of the great difficulties for founders is knowing how to present their business to potential candidates; that's where I'm going to step in and remind them how they presented it to their investors, "she explains.
"Being able to speak their language helps our communication. "
Anita still intends to launch her own startup in the future. But for now, she's happy to help her partners make an impact in the entrepreneurial space.
"You don't have to have a startup to be an entrepreneur. It's like an identity, and I always think in that state of mind, "she says.