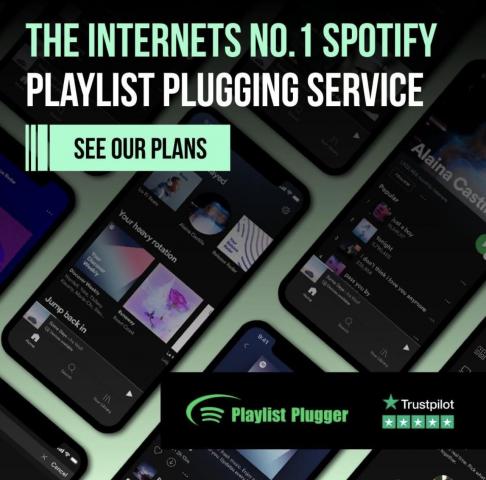 Exposing Spotify Playlist for Indie Artists – Songs Showcase Service Update
Playlist Plugger, an online service helping promote musicians and artists using Spotify playlists, has updated its basic Spotify playlist package. The company plugs in tracks and songs from lesser-known artists to help increase their exposure to users of the music streaming service.
Dubai, United Arab Emirates – January 14, 2022 —
The latest updates allow artists to submit their track for review by a team of knowledgeable Spotify experts and, if accepted, offer them a guaranteed spot on a Spotify playlist.
More details can be found at https://www.spotifyplugger.com
The recently announced Playlist Plugger provides a valuable tool to help musicians increase their exposure to regular music listeners, via the world's most popular music streaming service.
Spotify regularly updates its playlist options to suit users' moods and environments, providing listeners with carefully curated collections of songs chosen for work, travel, exercise or simply relaxation. As the platform continues to grow in popularity, the likelihood of exposure to a wider audience is greatly increased for an artist who is part of one of the platform's playlists, and the Playlist service Plugger uses a range of information about a track to assess its suitability for the proposition. .
The company's basic Spotify playlist package is ideal for indie artists looking to gain traction on the streaming service, but each track submitted must go through a review process to assess whether it meets to the exacting standards of the Spotify curators.
Learn more about the package at https://www.spotifyplugger.com/product-page/basic-spotify-plug
Once a song is accepted by the company, its team of experts gets to work creating a campaign to submit the track to genre-specific playlists. This way, the chances of a Spotify curator picking up the song are increased, and all genres are catered for, from acoustic singer-songwriter to jazz. Common elements of proper songs include those that use a catchy hook, have an addictive beat, and have been expertly mixed and mastered.
The release of the track on Spotify usually takes place the following Friday after review and acceptance. Spotify can take up to 14 days to respond, but artists will be notified as soon as their track is added to a playlist. Such a spot on a playlist can benefit artists not only in terms of exposure on the platform, but on a broader level, as many record labels regularly search for up-and-coming musicians on Spotify – just like film and television professionals looking for tracks. for future soundtracks.
Those interested can find out more by visiting https://www.spotifyplugger.com/plans-pricing
Contact information:
Name: Adam Cerf
E-mail: Send an email
Organization: Playlist Plugger
Address: King Salman Bin Abdulaziz Al Saud Street Marina, Dubai, Dubai sw62fj, United Arab Emirates
Website: https://www.spotifyplugger.com
Build ID: 89059926
COMTEX_400548634/2773/2022-01-14T19:00:46